Check out the auction items for evening of wine & roses 2015!

---
EVANS PLUNGE MURAL - CALL FOR ARTISTS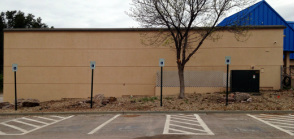 The Hot Springs Cultural Development Organization is partnering with the City of Hot Springs to establish a mural on the exterior south wall of Evans Plunge, South Dakota's oldest attraction.
We are currently accepting applications from artists to paint this mural during the summer of 2015. The focus of the mural will be historical in nature and should yet retain the high-quality class for which Evans Plunge became well-known in the days of its founder, Fred Evans.

To apply as a mural artist, please download this CALL FOR ARTISTS, which has been revised (deadline June 15, 2015) includes additional details on the mural and our organization. The Evans Plunge building is prepped and ready to go. See specs and other exterior pictures here. Submit with the required documentation to the CDO at PO Box 1044, Hot Springs, SD 57747 or by email.

---
---
A MESSSAGE FROM THE PRESIDENT


It started with a small group who wanted to share history, art and the creative nature as well as boost the economy of Hot Springs. It grew into the 'Oasis of Art', went to the state level, and because of the death of major supporters and lack of local support never came to fruition. What became of the idea translated into a small group with a mission of promoting, funding, and managing projects for the long-term expansion of the fine arts, architectural arts, and cultural heritage of Hot Springs and Fall River County...the Cultural Development Organization.

As a non-profit soon to be a 501 c.3, the small group gathered, promoted and radically changed direction to a more achievable goal: murals. Today you see how private donors, business owners and the public work together to provide these cultural experiences. Mural art – where history becomes public art.

How does it happen? Our annual Evening of Wine and Roses event is the one fundraiser we conduct each year – with a different theme each year and generous donors funds are raised for each mural. Businesses offer their buildings as canvasses for the mural. And the partnership begins. An event leads to donations leads to a canvas for an artist and history comes alive.

Each of the murals has a name documenting history, each mural invites the public to participate in the history and culture of Hot Springs. We invite you to visit the murals, to think about the scene and participate in the experience provided by public art.

-Diane Gross


In memory of
Gloria Easterby Aspinall



As the Founder and former President of the Cultural Development Organization, Gloria was the main impetus for the mural projects in Hot Springs funded through the Evening of Wine & Roses events.

A special Memorial fund has been set up at Wells Fargo Bank in Hot Springs in the name of Gloria Aspinall. Funds from the memorial will go toward a bench along the Freedom Trail where she once enjoyed taking a stroll. Memorial fund money provided for a brick in the Hot Springs library walk - Gloria spent many hours at the library reading and conducting research. If you would like to contribute to the memorial, please make checks payable to: Cultural Development Organization with a reference to the memorial. Please send checks to:

Cultural Development Organization
PO BOX 1044
Hot Springs, SD 57747


Evening of Wine & Roses 2015


Join us for an "Evening in Paris" with delicious French-themed cuisine at The Club @ Woolly's on February 7, 2015.

Tickets are still $30/person and the evening promises to be entertaining! Purchase tickets at Black Hills Books & Treasures, Woolly's or the Hot Springs Area Chamber of Commerce.

---

CURRENT PROJECTS


-Evans Plunge Mural - CDO is working with the City of Hot Springs to establish a mural on the exterior south wall of the Evans Plunge. Details above.

-

"Branding Time" Mural

- Mural artist Maria March has officially finished "Branding Time!" You still have the opportunity to be a part of this mural by adding your ranch's brand to the mural. A $50 donation will secure a place for your brand on the mural and leaves a legacy of your family history. Send

yours

today!




Artist Evans Flammond will be creating the next Hot Springs mural, "A Perfect World." Check out more of his work

here.Our next big event is Patriot Day September 11, 2015. We honor our 1st responders and military with a community potluck at the American Legion. Mark your calendars!


Patriot Day 2014


Thank you to everyone who came out for our wonderful Patriot Day event.


Evening of Wine & Roses 2014


The 7th annual fundraiser for the Cultural Development Organization was by all accounts a great success! We had a fantastic Luau theme this year, with Hawaiian-themed food served by Woolly's Western Grill, games, a live auction and more! Our special guest Evans Flammond unveiled his rendition of the next mural, "A Perfect World," which will be located on the Western wall of the Barnyard Veterinary building.


Click here for more photos from Saturday night!


---

Artist Gary DuChateau is currently crowdfunding the remaining money needed to complete the Mammoth sculpture near the junction of Highway 385 and Highway 79, a majestic marker to the entry of the community.


Please go to www.gofundme.com/RaisetheMammoth to help contribute to this long-delayed piece of artwork for Hot Springs!


LINKS


RAISE THE MAMMOTH!